---
Following the release of the T-REX 450L, which introduced an innovative design and came equipped with high-end electronic equipment. Align's most anticipated helicopter release in 2016 the T-REX 470L is born. No matter whether you are a newcomer or a professional, the brand new T-REX 470L will give you the new flying feel again.

470EFL Main Rotor Head provides superior flight stability and offers a lower CG design to reduce flying resistance while providing a more rigid and fast rotor head response. To improve the strength and durability of the main and feathering shaft the 470 main shaft outer dimension was increased from Ø5mm to Ø6mm, while the feathering shaft outer dimension was increased from Ø4mm to Ø5mm. The 470L has adopt a high standard 1.2mm 3K carbon fiber main frame and a wider body design which increases the size of the battery compartment allowing the use of larger capacity battery. The 470L utilizes a high efficient belt drive assembly design with an innovative adjustable belt guide pulley, providing a convenient way to adjust the belt tension by releasing or tightening the screw. This screw is used to maintain optimal belt tension improving the life of the belt and lowering maintains costs. The landing skid is tilted 5 degrees forward to improve crashworthiness and makes T-REX470L more avant-garde and dynamic.

The T-REX 470L is equipped with the large outer diameter 470MX motor (1800KV) which is highly efficient providing superior power, excellent torque, improved current draw, and a lower operating temperature which are excellent improvements as compared to the 460MX motor. The brand new DS450 digital cyclic servos and DS455 digital tail servo, support up to V8.4, high voltage input, improving the servos torque and speed. The new RCE-BL50X brushless ESC with an internal BEC provides 5.0V to 8.4V which can be set based on servo specification. The new high-end electronics effectively enhance flight performance.
Standard equipment
●Microbeast PLUS Flybarless System X 1
●RCE-BL50X 50A Brushless ESC X 1
●470MX Brushless Motor(1800KV) X 1
●DS450 Digital Servo X 3
●DS455 Digital Servo X 1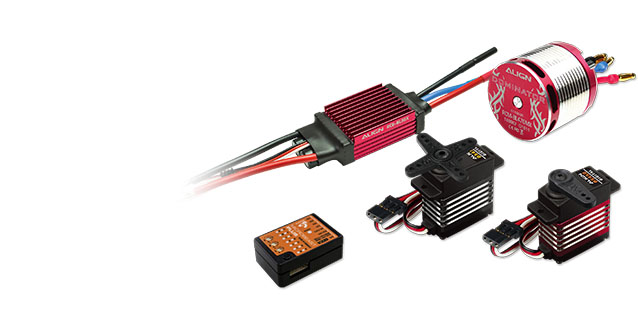 Specification
●Length: 755mm
●Height: 210mm
●Width: 108mm
●Main Blade Length: 380mm
●Main Rotor Diameter: 850mm
●Tail Rotor Diameter: 181mm
●Motor Pinion Gear: 11T
●Main Drive Gear: 121T
●Main Drive Pulley: 56T
●Tail Drive Gear: 15T
●Drive Gear Ratio: 11:1:3.73
●Weight(w/o battery): 840g
Accessories
●T-REX 470L DOMINATOR Set x 1
●380 Carbon Fiber Blades x 1set
●69 Tail Blade x 1set
●470MX Brushless Motor(1800KV) x 1
●DS450 Digital Servo x 3
●DS455 Digital Servo x 1
●RCE-BL50X 50A Brushless ESC x 1
Radio transmitter and electronic equipment required for assembly:
1.Transmitter(6-channel or more,helicopter system)
2.Receiver(6-channel or more)
3.Pitch gauge or Digital Pitch Gauge
4.6S Li-Po 1400~1900mAh battery x 1